You will find the debate most of the time when it comes to Lean vs Six sigma. Out of these two process improvement techniques which one is more effective? but the fact is that Lean and Six Sigma, both are extremely complementary methodologies.
The focus of six sigma is on eliminating sources of variation or the number of mistakes you are making, on the other hand, the focus of Lean is on reducing time and waste in the processes. Ultimately the goal of both techniques is same i.e. to eliminate waste and create an effective process, only the approaches are different.
That's why it is important to understand the difference between Lean and Six Sigma approaches so in this article I am going to discuss Lean vs Six Sigma in detail. In the end, you will get complete clarity on Lean vs Six Sigma on the basis of 8 parameters. So let's start…
What is Lean?
Lean is a continuous process improvement initiative. Its key focus area is streamlining and improving processes and it is done by reducing lead time and Waste from the process, all this will lead to better efficiency, quality, and customer satisfaction.
Lean manufacturing has evolved overtimes, in 1890 it started by Frederick Taylor then in 1910, Henry Ford developed and implemented the first comprehensive manufacturing strategy by arranging all the elements of the manufacturing system like people, machines, tooling, and products, in a continuous system or an assembly line for manufacturing the Model T automobile.
During 1949 and 1975, in the Toyota motor company, Taichi Ohno and Shigeo Shingo began to incorporate Ford production and other techniques into an approach called the Toyota production system. But, they found flaws in the Ford system, especially with the treatment towards employees as Ford used employees only for muscle power.
This Toyota production system changes the focus from the use and utilization of machines to the workflow from the process. TPS aims at reducing waste and cost of production and improving the quality of products so that needs of customers are fulfilled.
Over a period of time, lean manufacturing revived as per the changes in needs of the organization so it is not just a usage of a few tools and techniques but a never-ending journey of continuous improvement.
Both Lean and Six Sigma work towards a common goal i.e. customer satisfaction and continuous improvement. But there are some differences in the approach that you are going to understand in this article on Lean vs Six Sigma, Right! The process for lean manufacturing involves the following basic steps –
Define value from the customer's perspective.

Map the value stream.

Create flow by removing causes of waste.

Create pull if the flow is difficult to achieve.

Measure and validate.

Practice continuous improvement.
What is Six Sigma?
Before starting a comparison between Lean vs Six Sigma, as like we discussed the concept of Lean earlier, now take a quick overview of Six Sigma. 6σ is a Quality control program developed in 1986 by Motorola that focuses on cycle time improvement and the reduction of manufacturing defects to a level of no more than 3.4 defects per million.
It is a quality management philosophy as well as a methodology that focuses on reducing variation, measuring defects, and improving the quality of products, services, and processes.
This problem-solving methodology is conceptually based on a five-phase project i.e DMAIC. Each phase has a specific purpose and specific tools/techniques which aid in achieving the phase objectives as well as lead the six sigma project team to a significant conclusion.
This 5-phase methodology is called a DMAIC cycle or Define phase, Measure phase, Analyze phase, Improve and Control phase. The benefits of this methodology are as follows: (Check out the complete guide on Six Sigma)
Customer satisfaction

Eliminate root causes and defect in the process

Reduce variation and waste

Competitive advantage
Difference between Lean and Six Sigma-
Now, you got the basic idea of Lean and Six Sigma. It's time to compare Lean vs Six Sigma, the two complementary methodologies on the basis of different parameters.
The following comparison is based on parameters like assumptions, objectives, Focus of methodology, Approach, Principles, Methods and tools, Characters, advantages, and disadvantages. etc.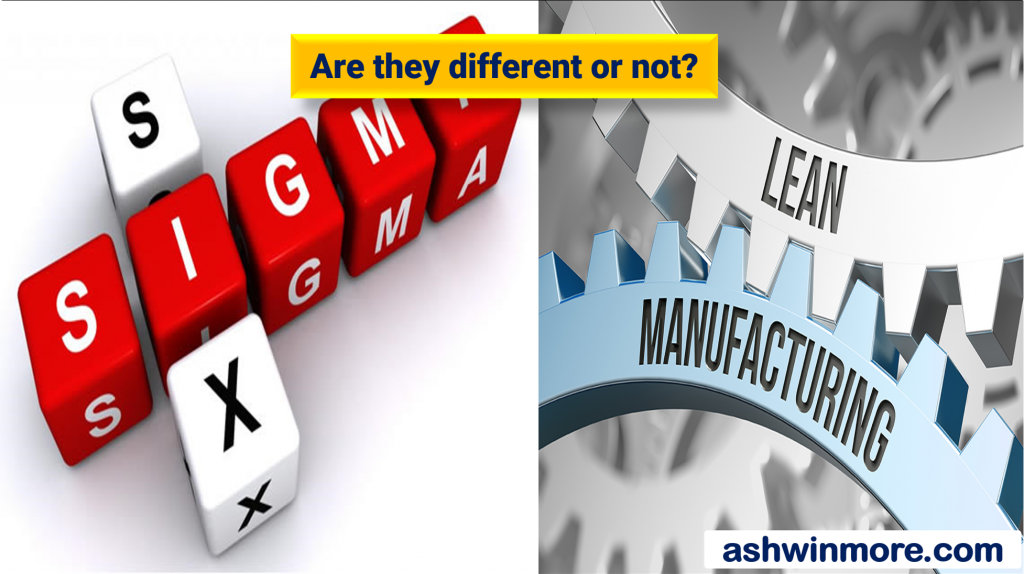 1. Assumptions:
Six Sigma started with Walter Shewhart's finding that unwanted variation of properties of the input and process leads to variation in outputs. So that these Unwanted variations in the inputs and process needs to be reduced to improve the outputs.
On these assumptions, quality gurus created a quality management strategy called Six sigma to tackle the variation problems in the process effectively. On the other hand, Lean manufacturing originates from the Toyota production system.
Many Businesses initially spend most of their time on non-value-added activities that cause an increase in waste so, in order to reduce the waste in the process, the concept of Lean manufacturing came into the picture.
Lean concentrated on removing waste while improving process flow to achieve speed and agility at a lower cost. Lean thinking encouraged the employees to become problem solvers and to identify Waste where it exists, then make improvements on the spot using lean tools.
2. Objectives:
The objectives of Lean and Six Sigma are internally related to the company and externally related to the customers. Six Sigma aims to reduce the cost of the company by eliminating defects, time delays, and consumption of inputs, and resources of selected products/services.
And simultaneously it aims to increase customer satisfaction by identifying and fulfilling important customer requirements on these products and services.
On the other hand, Lean manufacturing aims to reduce the cost of a company through stable, efficient, and standardized processes. And to increase customer satisfaction by the achievement of promised quality and availability of products or services.
3. Focus:
This is a very important parameter when it comes to Lean vs Six Sigma, the focus of Six Sigma is on the one hand on organization, as Six Sigma is often implemented as a company-wide program for the improvement of important products and services.
The main work, on the other hand, is carried out in temporary project teams that solve the identified problems. It's important to understand that Six Sigma focus is very narrow, for example – the performance of a single step in a process and how the quality can be improved at that single point in the value stream only.
While Lean focuses on the entire organization and aims to optimize the value chain of all processes in production, administration, services, etc., and what can be done to improve the entire ability of the processes to deliver things faster, with better quality, and more efficiency at the same time.
4. Approaches:
The approaches of Six Sigma and Lean show differences in the roles and tasks. In Six Sigma, the employees, the management, and customers continuously identify problems in the products and services.
The tasks of the management are to periodically prioritize and select appropriate problems for Six Sigma projects, then temporary teams led by Green and Black belts solve the selected problems.
In Lean projects, the management is responsible to identify appropriate methods for the company, experts then implement and adapt these methods. After that members of continuous improvement teams continuously eliminate waste and standardize their processes.
5. Principles:
The principles of Six Sigma are to identify, collect, prioritize and select suitable problems for projects, then to assign and if necessary- qualify Green or Black belts as project leaders, assign the subject matter experts for the project team, and the sponsor for each selected project. Then the project is implemented, and its financial benefit is calculated.
Lean management first identifies and prioritizes customer's requirements, which determines value, then identifies and optimizes the value stream as a chain of value-adding process steps.
After that Just in time rule is implemented which follows the Pull system of inventory control, the goal of a pull system is to maintain enough inventory (not more or less) to meet customer demand.
6. Methods and tools:
The methodology associated with Six Sigma is a very rigorous problem-solving approach with 5 phases – Define, Measure, Analyze, Improve, and Control.
The tools for Six Sigma are statistical in nature, there are tools for data analysis and management planning like the focus is on statistical tests of hypothesis on relationships between input and output variables, optimization of specific parameters (eg- machines) is done by DOE (design of experiments), process planning is supported by process simulation and design for Six Sigma (DFSS) methods.
Lean management uses pragmatic methods and a set of recommended actions for the management, production, and services. Lean employs a four-step process as follows-
Identifying opportunities

Designing a solution

Implementing a solution

Ensuring continuous improvement
In Lean, the tools for management are Visual management, 5S, Kanban, Value stream analysis, Total productive maintenance (TPM), overall equipment effectiveness (OEE), Single minute exchange of die (SMED), elimination of waste, standardization of methods, etc. In total between both Lean and Six Sigma, there are more than 100 different tools that can potentially be used.
7. Characteristics:
This 7th parameter is enough to understand the exact difference between Lean vs Six Sigma. Six Sigma has a character of "Medical therapy" let me explain – suppose a person is ill, and his illness represents the specific deviation of his health from the normal state of health.
So in this example, the deviation of his health or illness becomes a starting point of diagnosis like why he becomes ill, the root causes of his illness that lead to specific treatment for his illness.
So according to this example, the direction of the Six Sigma approach is from the identification of problems in output to its root causes in the process.
 Identification of problem – a person is ill, 
 

Root causes – study the causes of his illness.
Lean is more like a "fitness program" let me explain – All the organs of the body that are required for body functions are continuously strengthened through daily exercise and all the fat from the body that could weaken or makes the body unfit is eliminated.
As a result, the body becomes more healthy, fit, and works effectively. So according to this example, the direction of the Lean approach is from continuous elimination of waste from processes to improved outputs.
Continuous elimination of waste – elimination of fats from the body,

Reduction in waste causes improvement in outputs – reduction in fats makes the body more healthy.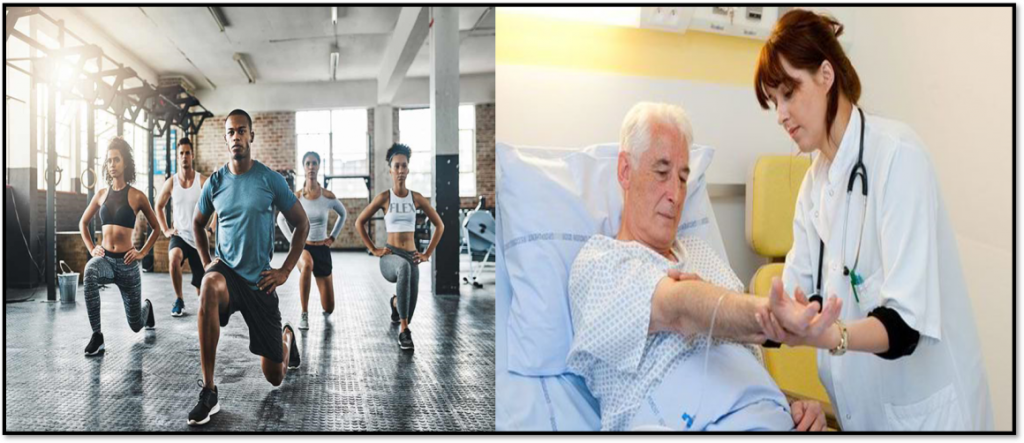 8. Advantages and disadvantages:
Six Sigma has provided a track record of adding value and ensuring quality to the output of business in the form of incremental improvements to products and services. This data-driven proactive methodology identifies & provides recommendations for potential problems before the company faces any form of loss.
It helps to reduce variation and defects in the processes, and also focuses on sustaining quality improvements. This continuous quality improvement results in improved finished products or services that lead to higher customer satisfaction.
Even though Six Sigma reduces variation in the process to make the process more effective but to do that, it inspects the business process minute by minute and generates a large amount of data, leading to time-consuming and complicated procedures.
As Six Sigma is a quality improvement process, the adoption of its protocol often leads to an increase in costs. On the other hand, the most significant advantage of Lean manufacturing is waste minimization. 
Lean is a methodology for relatively fast improvements across a variety of processes, from administrative to manufacturing applications and it enables companies to identify waste where exists.
It also provides the tool to make improvements on the spot. It helps to control inventory between the process steps that result in a consistent flow of the process and improve the quality of a product as well as productivity at the workplace.
But Lean manufacturing has very little room for failure, equipment, or labor failure can lead to major issues within lean and can make the entire operation or process fall behind.
Lean manufacturing processes are majorly dependent on the supplier for raw materials so any disruption in supplier efficiency results in disturbances in the processes that adversely affect the customer due to delay in the delivery of a product.
These are the 8 important parameters that define the exact differences between Lean vs Six Sigma. As both, the problem-solving method's goal is the same, nowadays most companies use them combined for all continuous improvement initiatives.
Conclusion:
Lean vs Six Sigma is never ending debate but by properly integrating Lean and Six Sigma tremendous value can be created for any kind of organization. If the primary problems are too much inventory or low-velocity processes then Lean manufacturing tools are best to fix the issues.
However, if the issue is too many variations and defects or too little trust in the outputs then the Six Sigma methodology is the best option to fix the issues. I hope you understood this difference. This is all about the Lean vs Six Sigma.
If you found this article useful then please share it in your network and subscribe to get more such articles.